A Journey to Higher Education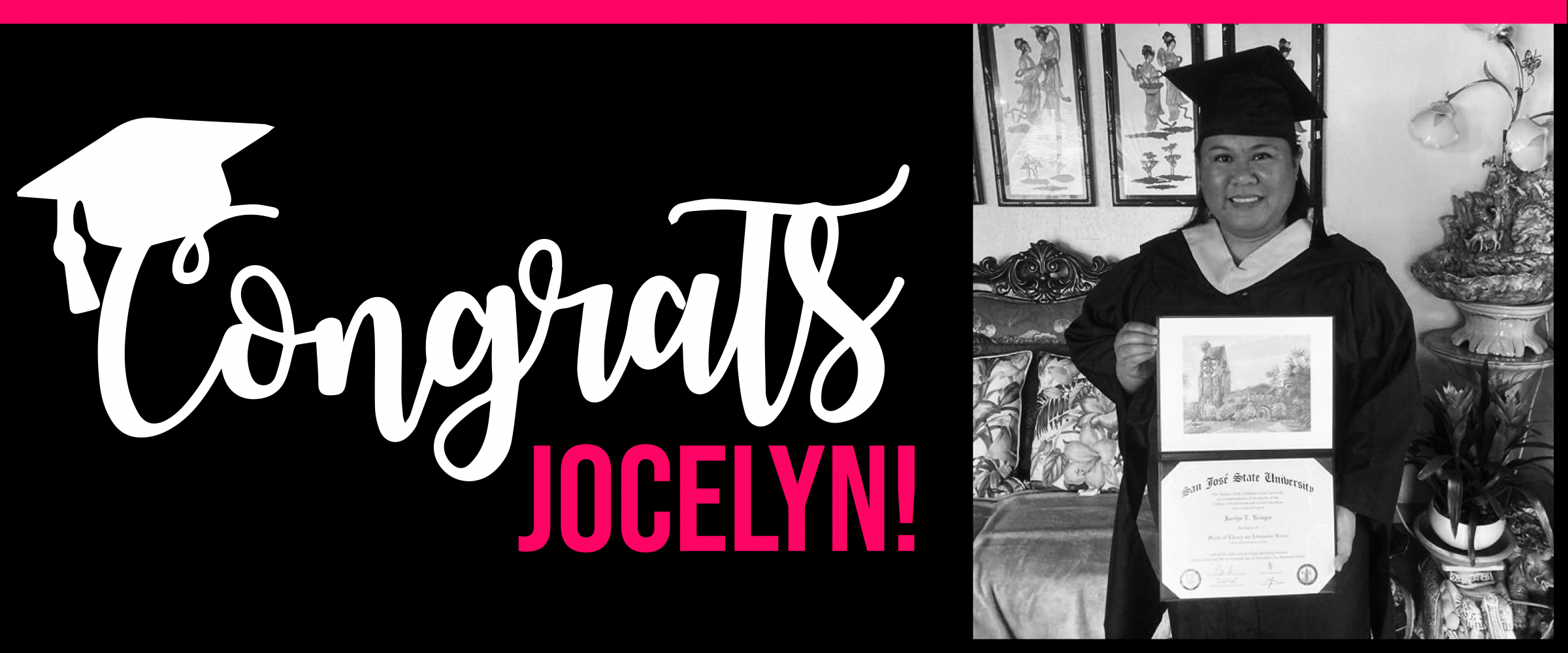 The degree's just got higher and we're not talking about the weather!
As an organization that considers education one of our top priorities, we could not pass up the opportunity to highlight our Content and Tech Strategist, Jocelyn Bringas on receiving her Master's Degree in Library and Information Science (MLIS) from San Jose State University!
"I remember I was browsing graduate programs at SJSU I stumbled upon the MLIS. The website had a video and in the thumbnail it said "Digital Asset Librarian." I was curious so I watched the video and it profiled a past graduate who works at Instacart and helps manage their digital assets. My mind was blown that this was part of being a librarian. I used to think being a librarian only dealt with physical books and working at the library. I had no idea working with digital assets was part of it and after watching that video I felt I had found the major that suited my career." -Jocelyn Bringas
In 2007, Jocelyn graduated with her Bachelor's degree. 12 years later, she decided to go back for her Master's. She shared her fears about returning to school after so many years. "I thought I'd be one of the oldest in the program, but it turned out I was somewhere in the middle. I interacted with fellow students who were much older than me. I remember I had one classmate who was over 60 years old."
Her college journey came with many rewarding experiences, one of which was when she became a Peer Mentor in her last semester. "I initially thought I'd be in a supporting role to the professor in the section I was assigned to. I didn't expect to have a leadership role, but I quickly discovered within the first week that I would be a role model for incoming MLIS students in their first class in the program. I mentored 29 students in a required course that was needed to pass in order to proceed with taking subsequent courses," Jocelyn said. Although it overwhelmed her at first, she eventually found her groove. "What helped was having two awesome professors to help guide me." She was even able to form friendships with some of her fellow Peer Mentors as they bonded over the experience.
Of course she had her challenges as well, like meeting the word counts on her assignments. She had to learn to dig deep to find the words and let the thoughts flow. "The beautiful part I found about grad school is that most, reasonable thoughts and opinions are acceptable. The discussion posts weren't about providing a right answer, but providing a unique perspective that can be backed up with the knowledge and theories presented in the readings," She said. Once she learned professors valued that more than anything else it made writing and responding to discussion questions much easier.
After graduating, Jocelyn was able to apply her new found knowledge to her work at CreaTV San Jose. As the Content and Tech Strategist, she supports the Programming Department by helping organize the content in our Media Asset Manager and YouTube, as well as assisting with scheduling content and airing live broadcasts. She also supports the Engineering Department with running updates on the Playback system that is responsible for broadcasting and streaming content. "My job relates to my degree in many ways and I have been able to apply my new knowledge in most of my responsibilities. I took classes in Cataloging, Metadata, and Digital Asset Management. Both classes taught me about different ways to organize information. The great thing about Metadata, which literally means data about data, is it can be designed to what suits an organization's needs."
No matter what challenges come with furthering your education, there are always ways to overcome obstacles and achieve your goals and Jocelyn is proof of that! If you or someone you know may be interested in advancing their education, please check out the resources below for financial aid services and other information.
Financial Aid:
https://www.deanza.edu/financialaid/
https://www.sjcc.edu/current-students/on-campus-resources/financial-aid-and-scholarship
More Info:
https://www.sjsu.edu/about/administration-and-leadership.php
https://www.elearners.com/education-resources/degrees-and-programs/how-to-further-your-education/